1924 - 2004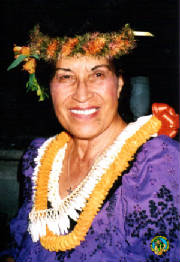 Kumu Hula Puluelo Park
Brief Biographical Summary from the Hula Preservation Society:
Pulu`elo Park is from the Kohala area of the Big Island. Her early informal hula training came from family members there, including her aunties and Tutu MacDougal. Her subsequent teachers in Honolulu included Caroline Tuck, Mrs. Tuttle, Katie Nakaula, and Lökälia Montgomery, with whom she `üniki'd (graduated). In 1952 in Pälolo valley, Auntie Pulu opened Puamana Hula Studio, named after her first daughter. She later moved it to Hau`ula and then Kailua, where she became a fixture in the community for many decades. Since the early 1980's, Pulu`elo has also taught at Kainalu Elementary School (Kailua) in the Department of Education's Küpuna Program. Her final `üniki (graduation) rites were held in October, 2002, at Kë`ë, Kaua`i. 2002 marked the year she celebrated 50-years of teaching hula.
********************************************************************************
This Article is from the Honolulu Star Bulletin
---
Beloved dance teacher
made hula accessible
On a Sunday afternoon earlier this month, 35 people jammed into Alice Puluelo Naipo Park's living room in Hauula and started to dance.
For nearly an hour, adults and children took turns performing for Park. They were her students, and they were showing her all they had learned.
"She was very pleased," said Park's daughter, Soo Whan "Pumehana" Featheran. "It was a nice day. I'm very glad that we were able do that."
Three days later, on Aug. 18, the well-known kumu hula died at home. She had been diagnosed with cancer in May, Featheran said.